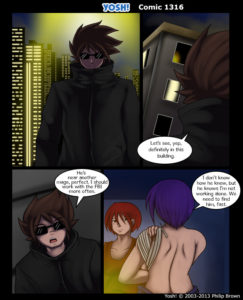 Back to Axel! On the hunt for an escaped mage and his accomplice! Certainly doesn't take long when you have a compass of sorts right to your destination.
In other news! I am officially announcing the 10th Year Anniversary Project for Yosh! That's right, later this year will be the 10th year anniversary for the comic! To celebrate it I am putting together a collection of artwork into a full color book. The estimated size of the book is between 42 and 52 pages, full color. It will include some brand new artwork just for the book from myself as well as some of my other artwork mostly from conventions and some of my favorite comics. The book will also feature artwork from other artists from the Katbox and beyond that will be made just for the book! Eventually I will put a list up of all the artist participating.
The price of the book will be 20 dollars plus shipping and handling and will be a limited printing! Once the printing is done no more copies will be printed! Also pre-orders will determine how many get printed! For example if 50 comics are preordered I will order around a total of 100 comics, 50 for the preorders and the other 50 to be sold at cons and some might be put online to sell.
All books will be signed and numbered! The preorders will be 1 through the number preordered! Then the rest will go to online and conventions.
The convention they will be sold at will be Nekocon in Hampton, VA in November! Hopefully I'll be adding more convention trips for 2014 where I will sell whatever is left but that will be the first Convention they will be available. Currently we are trying to make sure that Ron (Nekonny), MasterGodai, Tom from 2Kinds and Tony (one of our friends and colorists) will be at the convention with us as well as Danny- because Danny always goes to Nekocon (It's our local major convention XD)!
Please vote in the poll but only once! I want to try to use it as a guide for how many orders I can expect and plan for. Thank you all for everything! If you have any questions please Comment below or email me! I'll make another blog as well to address any FAQ you all have and to give you all more information!